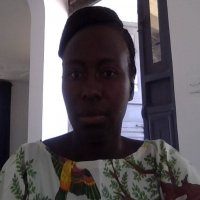 Student Short Biography:
Catherine Ngaywa is a Graduate student, pursuing Master of
Science in Biotechnology at the University of Nairobi, Centre for Biotechnology and Bioinformatics (CEBIB). She holds a Bachelor of Philosophy Degree in Biotechnology at the Technical University of Kenya. She has worked on Identification of Antimicrobial resistance in Escherichia coli isolated from raw household milk intended for human consumption.
Thesis / Project Title: MOLECULAR IDENTIFICATION, VIRULENCE
CHARACTERIZATION AND ANTIMICROBIAL RESISTANCE
PROFILES OF ESCHERICHIA COLI IN MILK INTENDED FOR
HUMAN CONSUMPTION IN ISIOLO COUNTY, NORTHERN KENYA
Thesis / Project Abstract:
The Enterohemorrhagic Escherichia coli (EHEC) O157:H7 is a widely studied foodborne pathogen which has an adverse effect on human health. The threat is aggravated by the fact that there are reported resistance of EHEC O157:H7 to antimicrobial agents. This study used lytic transglycosylase gene to identify Escherichia coli in milk of livestock for human consumption. In addition, the virulence factors (stx1, stx2 and eae) and antibiotic resistance profiles including their capacity to produce extended-spectrum βlactamases (ESBLs) were determined.
Three hundred and four (304) milk samples were obtained from lactating animals in Isiolo County, Northern Kenya. Escherichia coli was isolated using Eosin Methylene Blue Agar (EMBA) and Sorbitol MacConkey agar (SMAC), and identified using biochemical tests (Triple Sugar Iron, Lysine Indole Motility and Citrate). The isolates were then confirmed using Polymerase Chain Reaction (PCR) and sequencing. Additionally, antimicrobial resistance profiles of the isolates to 11 antimicrobial agents were evaluated by disc diffusion method on Mueller Hinton Agar (MHA). Furthermore, the isolates were evaluated for antimicrobial genetic
determinants conferring the resistance phenotypes to betalactams and tetracycline.
Overall, colonies suggestive of E. coli were isolated in 42 (13.8%) milk samples including 19(8.8%) from household and 23(31.08%) from individual animal. Also, all the 42 isolates were confirmed as E. coli by PCR. Also, stx1, stx2 and eae genes were detected in 85.7% (36), 57.1% (24) and 90.4% (38) isolates respectively and both stx1 and stx2 in 47.6% (20) isolates.
This study revealed that 95% (40) of the isolates were resistant to at least one of the tested antimicrobials. Furthermore, Multidrug resistance (MDR) was detected in 14.28% (6) of the isolates. This study established that milk consumed in Isiolo County is contaminated with genes with the potential to produce enterotoxins and antimicrobial resistant E. coli strains.
Other relevant academic links:
https://doi.org/10.1016/j.foodcont.2019.03.008
https://doi.org/10.1016/j.foodcont.2019.04.005