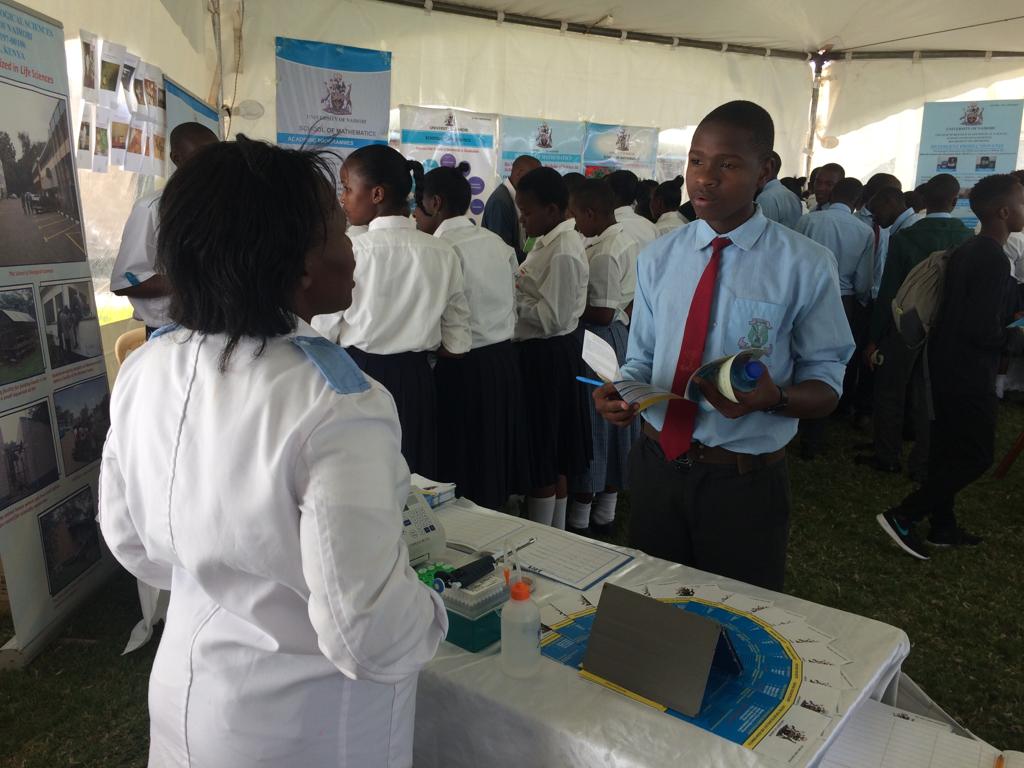 CEBIB Exhibits at the UoN Open Day - CEBIB Staff engaging high school learners
Centre for Biotechnology and Bioinformatics took part in this year's University of Nairobi Open Day that took place at the Hyslop car park, Main Campus from 25th to 27th of May 2017.
The centre was represented by Mr.Collins Owino - Graduate Assistant, who show cased the active research activities at the centre. In line with the theme: Quality and Innovative Education to Sustain Industrial Growth, CEBIB exhibited two current research projects to the audience; one project looking at the production of hemostatic products from natural products and another project on malaria.
During the period, the success stories of CEBIB were highlighted and the core functions of the centre in strengthening national capabilities and development of postgraduate research in biosciences was also emphasized to the public.
The key role of our collaborating institutions as well as scientists was also appreciated. CEBIB stand attracted different stakeholders including potential students with a keen interest in developing careers in Biotechnology and Bioinformatics who showed interest in joining the Centre for their postgraduate training.
With the current global food and health challenges, the participants wanted to know how CEBIB, a leading research centre in Biotechnology and Bioinformatics research was working with other scientists in bringing solutions to these problems. For this challenge, the Centre has entered into collaborative agreements with scientists from KALRO, ILRI, ICIPE, KEMRI and other research organizations to write grant-winning proposals that will help solve emerging challenges facing the country.
As CEBIB, we look forward to taking a leading role in biotechnology and bioinformatics research geared towards addressing plant, animal, environmental and human health issues.